If this past year has taught us anything, it's that we need to take the time to pamper ourselves. If renovated correctly, no room can scream relaxation quite like the bathroom.
Everyone deserves a bathroom that looks like it was ripped from the pages of a magazine. So here are some examples of how you can incorporate luxury into your everyday lives.
Ideas For Luxury Bathroom Renovations
Room With a View
Having a window in the bathroom can sometimes become a privacy concern. However, if utilized correctly, you can make it part of the luxury bathroom experience.
It's becoming more and more popular to place a free-standing tub by the bathroom window. This allows you to sink into the deepest of tubs, covered in bubbles, while admiring the view outside. If you're worried about neighbours, you can always explore window and blind options that allow you to see out while blocking the view inside.
Heated Flooring
Your toes will be thanking you come the chilly Canadian winter mornings. Nothing says luxury quite like having heated flooring. Stepping out of the shower will be a whole new experience.
Marble
Marble is a wonderful material to use in a bathroom. Not only are they durable, able to stand up to everyday wear and tear, but they are also a beautiful focal point.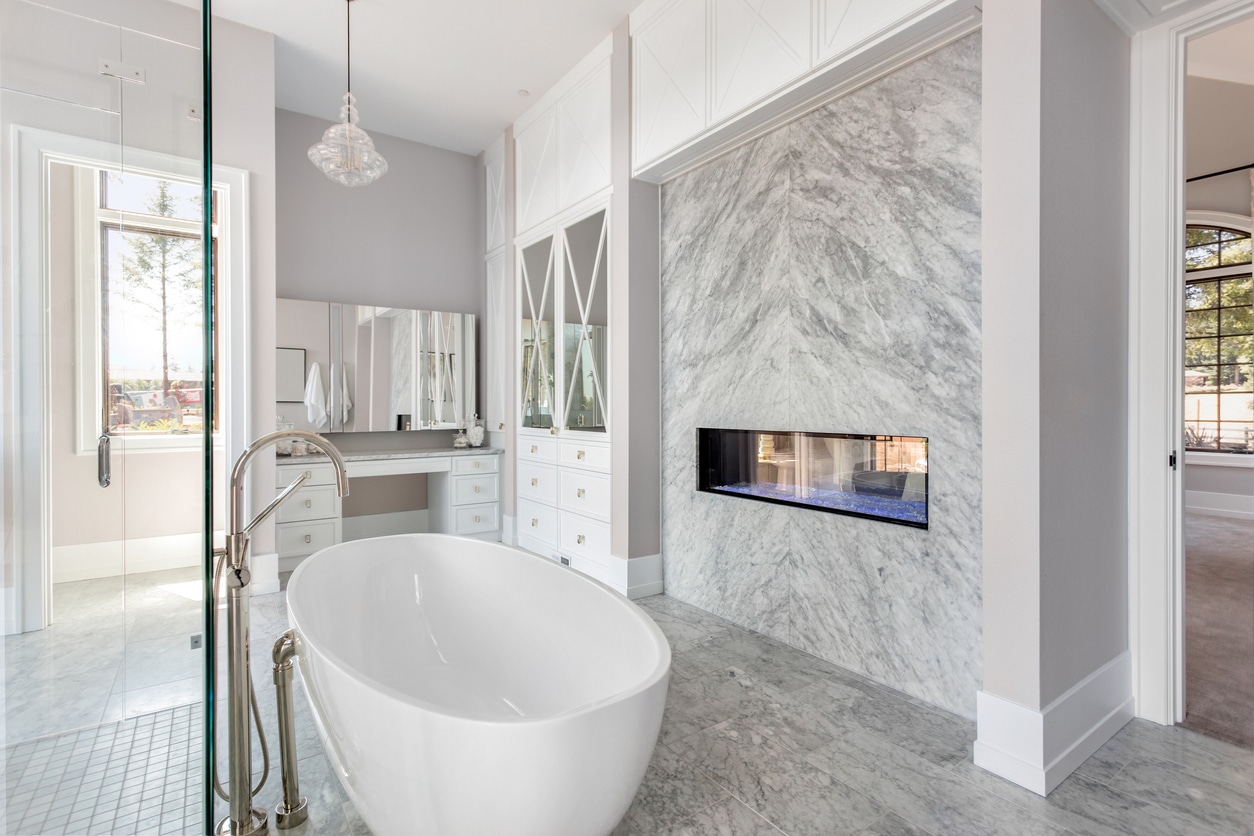 Going with marble countertops is always an excellent choice, but consider adding the marble to the walls or even floors if you want to be a little extra creative.
Feature Wall
Adding a feature wall to your luxury bathroom is a great way to show personality and create a talking point. Murals or even pebble walls are a fun way to build dimension in the room.
Alternatively, you could choose to go with a funky tile in the shower. This is slightly more hidden while still allowing for that playful feel.
The great thing about designing a luxury bathroom is that there is no set style or requirements. Feel free to be creative and include ideas that would best serve you in the space.

Trademark Renovations is the leading renovations company in Calgary. With over 30 years of experience, a wealth of design and building knowledge, and numerous consumer choice awards. Our commitment to producing outstanding work, and offering honest, transparent customer service is why the industry regularly recognizes us. Whether you are looking for new home additions in Calgary or a new kitchen, we are your trusted company. Contact us at 403-277-5600.