Stylish modern ways to upgrade your home's exterior
The exterior of a home heavily dictates and influences how a home is perceived in terms of first impressions to prospective buyers or the rest of the neighbourhood. Another important element that is influenced by a home's exterior is its curb appeal and its overall property value.
If you have been thinking about modernizing or renovating your home's exterior, there is plenty of inspiration out there to filter and sort through. Here's some quick tips on how you can modernizing your home's exterior.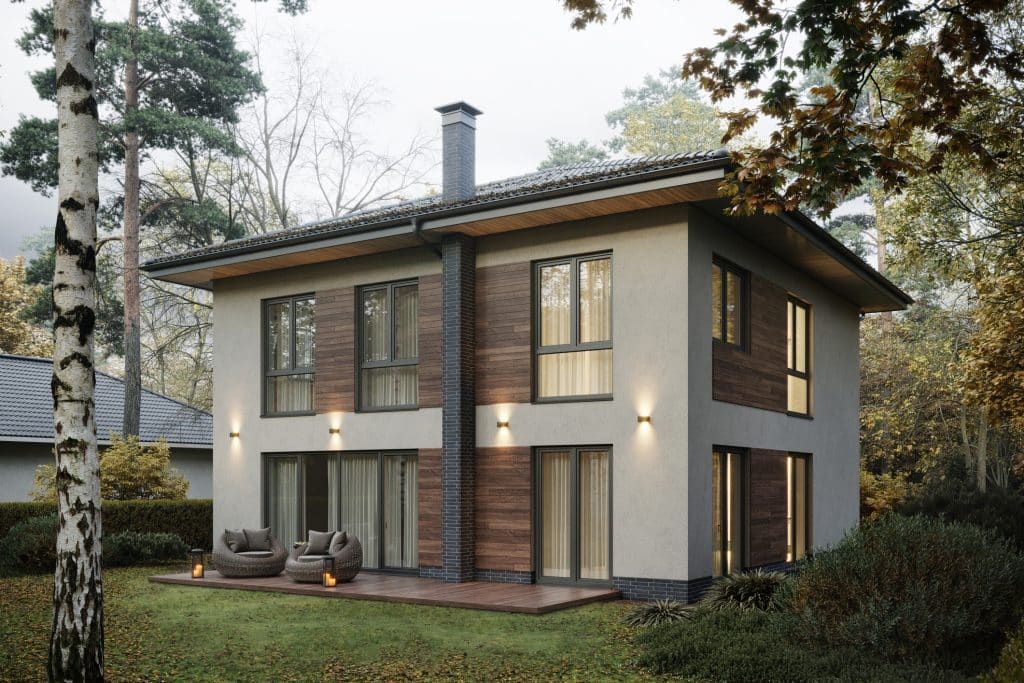 Three Ways to Modernize Your Home's Exterior
Add Accent Sections on Your Home's Exterior
One way to modernize your home's exterior is to install horizontal lap siding over the exterior's surface entirely. There are plenty of varieties of siding available, some varieties can include shingles, panels, corrugated metal, decorative trim and many more.
But upgrades to your exterior doesn't have to be limited to a singular style of siding. Mixing and matching different styles, and use them to call attention or accent different areas of your exterior such as upper stories, eaves, towers or sections like garages.
Add Exterior Lighting
One of the more effective and aesthetically pleasing ways to upgrade your exterior is by adding a variety of lighting. By adding light, it can add ambiance, create dimension, and add more visibility at night. Adding lighting elements can help highlight different structural accents on your property, soffit light can emphasize the architectural structure of a home, ground lights can accent landscaping elements such as hardscapes or softscapes, or bush or porch lights can create a welcoming glow near entryways.
Lighting has also been a rising industry trend in home design and has remained a favourite amongst home renovating contractors. There are plenty of benefits to adding and upgrading your existing lighting on the exterior of your home, lighting can add not only aesthetic but also functional benefits. Not only can it accentuate features on your home, it also can illuminate features such as your house's number sign to make nighttime visibility easy.
Create Visual Interest with a Pop of Trim Colour
Another one the latest trends in home exterior design currently is utilizing bold colour accents. This can be executed on front doors, shutters, trims, or decorative wood work. Trim colours can complement the rest of your home's exterior, while simultaneously still remaining eye-catching and attention grabbing.
Using wood or paintable PVC, gingerbread trim, intricate-cut and pierced frieze boards, braced arches and scrolled brackets can add a modern twist to your home's exterior. Colours such as reds, turquoise, royal blue or other bold, bright colours can be great accent colours as long as they are used in moderation. By using them in small amounts, you won't overwhelm the rest of your home's palette.
Modern Window Replacement
Upgrading old and stained windows modernizes your home more than you think. It also adds a lot of value to your home as well. When going with a
window replacement
project for you home ensure you are looking at all options and styles for you home. There are more options out there than you think and plenty of
window companies
to choose from in your local markets that will walk you through the entire process. In need of a grant? Canada and US offer many grant programs to go with energy efficient windows.
Trademark Renovations is the leading renovations company in Calgary. With over 30 years of experience, a wealth of design and building knowledge, and numerous consumer choice awards. Our commitment to producing outstanding work, and offering honest, transparent customer service, is why the industry regularly recognizes us. Whether you are looking for new home additions in Calgary or a new kitchen, we are your trusted company. Contact us at 403-277-5600.