Are you eagerly anticipating the transformative journey of a kitchen remodel? Whether you're seeking these home renovations in Calgary or someplace else, the prospect of revitalizing your culinary space is undeniably thrilling. This pivotal project holds the power to enhance not only your space's functionality and aesthetics but also to improve your home's overall value. So prepare for an immersive experience as this comprehensive and insightful guide becomes your trusted companion, illuminating the path through kitchen renovations! From meticulous planning and selecting exquisite materials to enlisting the services of top-tier professionals, we will embark on a captivating exploration of the art of culinary reinvention. Together, let's plunge into the boundless possibilities that lie ahead in creating the kitchen of your dreams.
Assessing Your Needs and Setting Goals
Before embarking on your kitchen remodel, take some time to assess your needs and set clear goals. Consider your desired functionality, lifestyle, and how you envision the space. Are you an avid cook who requires ample countertop space? Or are you seeking an open-concept design to create a more inclusive atmosphere for entertaining guests? Determining your objectives will help guide your decision-making process and ensure your remodel aligns with your vision.
Planning and Design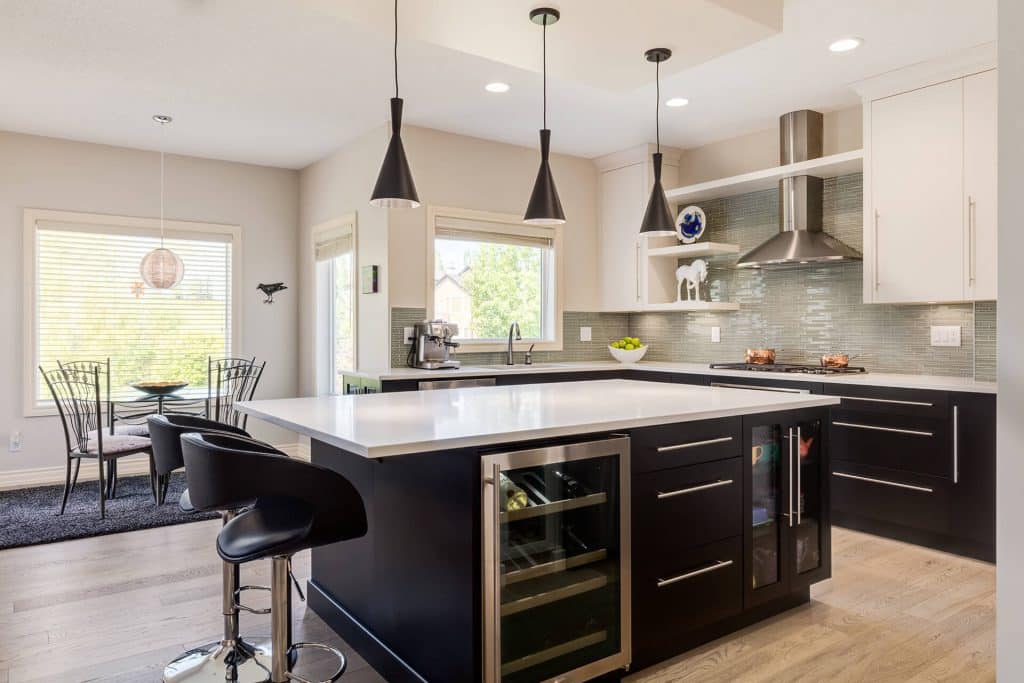 Meticulous organization and a well-thought-out plan is the key to any successful home renovation or remodelling project. Start by creating a detailed floor plan, considering the existing layout and any structural limitations. Consider factors such as traffic flow, work zones, and storage needs. Explore various design styles, from contemporary to farmhouse, to find personalized inspiration for your kitchen's overall aesthetic. Don't forget to research the latest trends in kitchen design to incorporate modern features that can increase the appeal and value of your Calgary home if you decide to sell it in the future.
Budgeting and Financing
Establishing a realistic budget is essential for any home renovation project in Calgary, including a kitchen remodel. Research the average costs of materials, appliances, labour, and any additional expenses you may incur during the process. If necessary, explore financing options that suit your financial situation. It's important to clearly understand your budget constraints to make informed decisions without compromising on quality.
Finding Professional Help
Finding the right professionals for the job is crucial to achieving a successful end result. Seek out reputable home renovation companies in Calgary with experience in kitchen remodelling. Read customer reviews, check portfolios, and request quotes from multiple contractors to compare services and prices. Collaborating with knowledgeable professionals will ensure your project runs smoothly and is completed to the highest standards.
Selecting High-Quality Materials
Choosing durable and high-quality materials is vital for a kitchen that stands the test of time. Opt for sturdy cabinetry, countertops, and flooring that can withstand the demands of daily use. Consider materials that are both visually appealing and easy to maintain, such as quartz or granite countertops and hardwood or ceramic tile flooring. Additionally, energy-efficient appliances can help reduce utility costs while adding value to your home renovations.
Maximizing Storage and Organization
An organized kitchen enhances functionality and efficiency. To optimize space, incorporate smart storage solutions, such as pull-out drawers, deep cabinets, and vertical shelving. Utilize innovative organizers for utensils, pots, and pans to keep your kitchen clutter-free. Customizing storage options based on your specific needs will help you make the most of your home renovation project in Calgary or your local area.
Lighting and Ambiance
Proper lighting can transform the mood and ambiance of your kitchen. Incorporate a combination of task, ambient, and accent lighting to create a functional and visually appealing space. Consider pendant lights above the island, under-cabinet lighting for task areas, and dimmer switches to adjust the lighting intensity for different occasions. Well-planned lighting will elevate the overall aesthetic and functionality of your kitchen.
Conclusion
Embarking on a kitchen or home renovation in Calgary can be an exciting journey that revitalizes your living space and increases its value. By assessing your needs, setting clear goals, and following the steps outlined in this ultimate guide, you'll be well-equipped to undertake a successful kitchen renovation. Remember to plan meticulously, choose high-quality materials, and work with reputable professionals specializing in home renovations. With careful planning and attention to detail, you'll soon be enjoying your dream kitchen and creating lasting memories with family and friends!
Trademark Renovations Ltd. is the leading renovations company in Calgary, with over 30 years of experience, a wealth of design and building knowledge, and winner of numerous consumer choice awards. Our commitment to producing outstanding work, as well as offering honest, transparent customer service, is why we are recognized throughout the industry. With the experience of our Project Managers and the workmanship of our renovation contractors in Calgary, you get a team that is fully equipped to manage your project, working on any bathroom, basement, or kitchen renovations in Calgary. From concept to completion, we will be by your side, offering open communication and weekly reports, so you know you are in good hands. Whether you are looking for a new home addition in Calgary or just a revamped kitchen, Trademark Renovations Ltd. is your trusted company for all home renovations in Calgary. Contact us at 403-277-5600.